The creation of a new clean hydrogen tax credit—under a new Section 45X of the IRS Code—took another step forward last week with President Biden's release of the Build Back Better Act ("BBBA"). How the credit is structured and what conditions must be satisfied to receive it have changed somewhat from the proposal contained in the House Ways and Means Committee markup released in September and previously introduced proposals like the Senate's Clean H2 Production Act and the House's Clean Hydrogen Production and Investment Tax Credit Act of 2021. Nevertheless its inclusion in BBBA along with nearly $10 billion authorized for clean hydrogen programs under the Infrastructure Investment and Jobs Act, and other recent legislative proposals, suggests that lawmakers in DC are serious about boosting this burgeoning energy sector.
BBBA's Clean Hydrogen Tax Credit/45X
BBBA's clean hydrogen tax credit is structured as a ten-year production tax credit based upon the kilograms ("kg") of qualifying hydrogen produced at a facility placed in service before January 1, 2027. The credit amount begins at $.60 per kg of hydrogen produced. However, that credit amount will be multiplied by five if the hydrogen production facility meets the prevailing wage requirements for all laborers and mechanics employed in the construction of the facility and during the 10-year period in which the credit is taken. Thus, if the prevailing wage conditions—which will be established through subsequent regulations—are met, facilities will be eligible for a credit of up to $3 per kg of clean hydrogen, as was previously proposed.
To receive the full $3, a facility must produce its hydrogen through a process that results in lifecycle greenhouse gas emissions of less than .45 kg of CO2 equivalent emissions ("CO2e") per kg of hydrogen produced. If a facility produces its clean hydrogen through a process that results in between .45 kg–1.5 kg of CO2e per kg of hydrogen produced, the taxpayer can only claim 50% of the credit. As the ratio of kg of CO2e to kg of hydrogen produced increases, the percentage of the credit the taxpayer can receive decreases. At the credits lowest applicable percentage, for example, hydrogen produced through a process that results in 4 kg–6 kg of CO2e per kg of hydrogen is eligible for just 8.4% of the credit. Hydrogen that is produced using a process that results in greater than 6 kg of CO2e per kg of hydrogen does not meet BBBA's definition of clean hydrogen and is not eligible for the credit. A chart more fully describing the applicable percentages as these relate to the CO2e kg to hydrogen kg ratio is included below.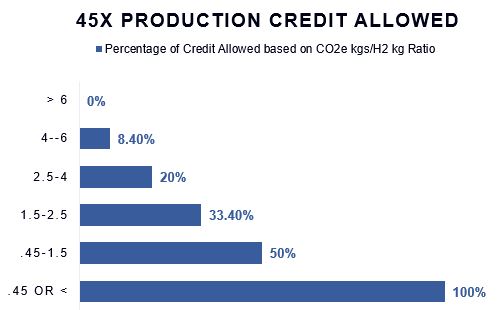 BBBA's approach of scaling down the credit based upon the ratio of kgs of CO2e to kgs of hydrogen is a departure from previous legislative proposals that scaled down the credit based upon the percentage reduction of lifecycle greenhouse gas emissions compared to hydrogen produced by a steam methane-reforming process. However, by defining the acceptable emissions level based on hydrogen produced BBBA removes some regulatory uncertainty around what the accepted definition is for lifecycle greenhouse gas emissions for hydrogen produced by a steam methane-reforming process. The applicable percentage levels that apply to reduce BBBA's clean hydrogen credit if a facility is not eligible for the full amount also start higher (50%), are scaled down more gradually, and end lower (8.4%). BBBA also clarifies that lifecycle greenhouse gas emissions only include emissions that are through the point of production.
As with the other renewable energy tax credits contained in BBBA, 45X includes a direct payment option. The 45X direct pay option applies on a facility-by-facility basis. Once a direct pay election is made that election applies to all subsequent taxable years with respect to the facility for which it was made. Tax exempt entities like state, local, or tribal governments are explicitly eligible to take advantage of direct pay.
BBBA does not allow a taxpayer to take advantage of both the 45X and the 45Q credit for carbon capture, utilization, and storage. The text of BBBA, however, does provide a slightly better explanation as to the eligibility of clean hydrogen facilities with carbon capture equipment for 45X than previous proposals.
There has been some pushback on the Hill to BBBA's approach to a clean hydrogen tax credit and, specifically, for allowing blue hydrogen—hydrogen produced from natural gas reforming with carbon capture—to qualify for the credit. As BBBA was being rolled out last week, a group of 19 Congress members sent a letter to the Senate Majority Leader and House Speaker stating that "we must be attentive to the reality that not all hydrogen is clean and reject efforts to further subsidize dirty hydrogen in the Build Back Better Act."
Other Recent Clean Hydrogen Legislative Proposals
A bipartisan group of Senators last week introduced the Hydrogen Infrastructure Finance and Innovation Act ("HIFIA") that would provide grants and low-interest loans for building out hydrogen transportation infrastructure and operate in a similar manner to the Transportation Infrastructure Finance and Innovation Act ("TIFIA") for highways and Water Infrastructure Finance and Innovation Act ("WIFIA") for water infrastructure. HIFIA would support building out new pure hydrogen pipelines, retrofitting existing pipelines to support a blend of hydrogen, and establishing hydrogen storage projects and refueling stations. The same group of Senators also introduced two other hydrogen-related bills. The Hydrogen for Ports Act, which would create a grant program to support hydrogen-fueled equipment at ports. And the Hydrogen for Industry Act, which would create a grant program to support commercial-scale demonstration projects for end-use industrial applications of hydrogen. Senator Heinrich—a cosponsor of these three bills—has also written separately to the Federal Energy Regulatory Commission asking, among other things, for it to consider whether it has the jurisdiction and the regulatory authority it needs to regulate the transportation of hydrogen in interstate commerce.
While none of these proposals are yet final, it appears that some—particularly 45X—are nearing the legislative finish line. Nixon Peabody will be tracking these proposals and subsequent regulatory developments that may result from them becoming law.