The United States Copyright Office issued a letter on February 21, 2023, limiting the copyright registration for the graphic novel Zarya of the Dawn, which was created using the AI platform Midjourney by artist Kristina Kashtanova (they/them). The U.S. Copyright Office ultimately decided Kashtanova "is the author of the Work's text as well as the selection, coordination, and arrangement of the Work's written and visual elements." However, the U.S. Copyright Office concluded that the images in the novel created using Midjourney AI did not meet the "human works of authorship" requirement of the U.S. Copyright Act. Accordingly, the U.S. Copyright Office canceled its previous registration and is reissuing a certificate of registration for only the expressive portions of the work created by Kashtanova without the assistance of Midjourney.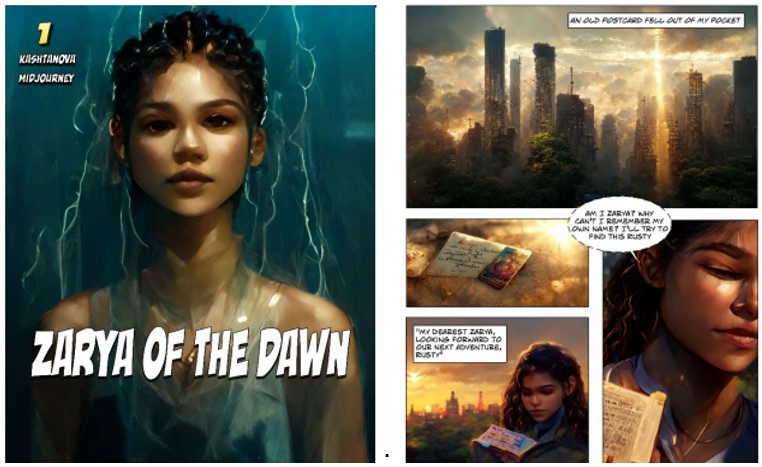 Kashtanova initially obtained registration from the U.S. Copyright Office for an 18-page graphic novel that consisted of text written by them, along with AI-generated images of characters and backgrounds.
Following significant media and news coverage, the Copyright Office took note and requested supplementary information about the process involved in creating the novel's images. Kashtanova responded that each image in the novel underwent an extensive creative process, whereby Kashtanova directed Midjourney to create the images and then further refined them using additional tools, such as Adobe Photoshop.
After receiving Kashtanova's response, the U.S. Copyright Office determined that the images failed to meet the human authorship criteria set forth by the Copyright Act. The U.S. Copyright Office's decision was based on Kashtanova's alleged lack of "sufficient control over" the output created by Midjourney, which it found failed to qualify as human authorship.
Looking ahead
The decision shows the difficult time the U.S. Copyright Office and others are having in determining how to treat works created and/or partially created by AI. For now, the U.S. Copyright Office remains firm in its position that AI-created works are not eligible for copyright protection. The outcome of this decision has far-reaching implications for businesses, brands, and creators who incorporate AI technology into their creative process. It underscores the significance of comprehending the AI tools being used, the extent of their use, and the level of influence the author has over the output produced by AI, in determining whether the resulting work fulfills the requirements of human authorship for copyright protection.
Moreover, this decision accentuates the necessity for businesses and creators to stay informed and updated as to the ever-changing regulations regarding AI-generated works. As the Copyright Office's stance on AI-generated works remains unwavering, businesses and creators must take proactive measures to guarantee their creative works qualify for copyright protection.