Last week, the U.S. Department of Health and Human Services, Office of Inspector General (OIG), along with its state and federal law enforcement partners, announced a national telemedicine health care fraud takedown, involving 345 defendants in 51 judicial districts, including telemedicine executives, the owners of durable medical equipment (DME) companies, genetic-testing laboratories, pharmacies, and more than 100 medical practitioners. According to the government, the action involved $6 billion in alleged loss to federal health care programs. The historical national takedown uncovered over $4.5 billion in allegedly false and fraudulent claims concerning telemedicine.
A common telemedicine model that the government continues to scrutinize, and was included in this recent takedown, is one where a telemedicine company connects physicians to patients for consultations. The "consultations" consist of either telephone calls or simple reviews of electronic questionnaires. The consultation results in a transmission of a prescription for a drug, device, diagnostic test, or piece of equipment that is reimbursed by Medicare, Medicaid, or another payor. Often times, this telemedicine model involves aggressive direct marketing to Medicare beneficiaries, advertising items to improve discomfort, such as medications or braces, or direct-to-consumer access to diagnostic tests, all paid by insurance. While ordering drugs, tests, DME, and other items via telemedicine may be compliant if carefully structured; the government has alleged, in several instances, that a telemedicine provider and/or supplier (such as DME supplier, laboratory, or pharmacy) paid illegal kickbacks and bribes to physicians to order items for Medicare beneficiaries that were medically unnecessary and, therefore, not reimbursable by the Medicare program. Additionally, the OIG fact sheet on this most recent takedown describes the proceeds of the alleged fraudulent scheme as being laundered through international shell corporations and foreign banks. The OIG posted the following diagram of the latest scheme, which it considers the largest takedown of health care fraud in the OIG's history.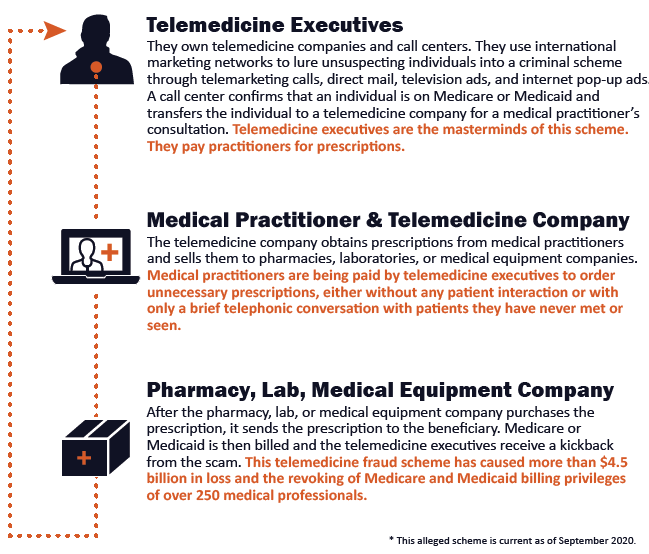 The acceptance and use of telemedicine grew exponentially after third-party payers, including Medicare Advantage, Medicare, state Medicaid programs, and commercial plans, began covering health care services delivered via telemedicine. This acceptance was spurred by the novel coronavirus (COVID-19) pandemic, which is fundamentally transforming telemedicine in the American health care system. Over the past few months, telemedicine technology made it possible for patients to receive medical services and care from the safety of their homes or other alternative care settings. As addressed in prior client alerts, there have been numerous federal and state waivers, exceptions, and executive orders enacted to ease regulatory restrictions, enabling both providers and patients to provide/receive virtual care without being overburdened with meeting technical legal requirements. We have also seen a steady increase in government enforcement actions surrounding telemedicine with the increased use and reimbursement for these services.
While telemedicine continues to be at the forefront of our evolving health care system, it is susceptible to fraud opportunities because of the absence of direct patient contact and/or any prior professional relationship between the patient and the ordering telemedicine provider. This recent enforcement action is a reminder to health care providers, suppliers, and telemedicine companies to ensure that any proposed telemedicine business model is carefully vetted and launched in compliance with both state and federal law.